Buying a New House in France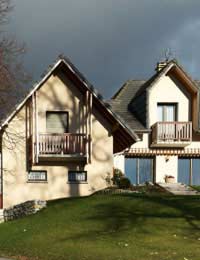 There are many reasons why you may want to look at buying a new home in France.
The French themselves like to buy new homes and often snigger at the British (and German and Dutch and ...) people who are buying up all the run-down old houses, only to plough all their money into them and still end up without the mod-cons of a new home.
This is evident from the large amount of new build properties you will see when you visit France – both completed new properties and large developments being worked on. These tend to be on the outskirts of towns and in village locations, as this is where the land is available. You are unlikely to find a new build home in a central location.
It is important to understand what type of lifestyle you are looking for, as well how what budget you have, what practical requirements you have and how your circumstances may change.
Ten Year Guarantee
One of the benefits of buying a new home is that you are able to know exactly what you are buying. There are strict rules on the workmanship of new homes in France, which is similar to the National House Builders Guarantee in the UK, giving you ten years of guarantee.
Buying Off Plan
If you are buying off plan, you will also be able to specify a number of details and finishes to be completed to your taste. Buying off plan is a good way to make sure that you get the very property you want, rather than waiting to see what the estate agents have to offer you and having to choose from their selection. However, it is also a very different lifestyle, because these properties are usually out of town, which is why you need to know what type of lifestyle you want before you choose what type of property you will buy.
If you hope that your new life in France will be all about strolling to the market, wicker basket in hand, to buy lovely fresh bread and local cheeses, then buying a new home out of town is unlikely to give you that. You may be able to drive to your nearest town and then stroll, but that is quite different. If, however, you are hoping to have more space, a home that will not need any repairs for a long time and you are happy to drive all the time, then buying off plan is ideal.
New Homes
In order to buy a new home, you do not have to buy off plan. If you go to any of the property trade fairs in the UK, you will find that there are many exhibitors that see new build properties, both off plan and completed. A benefit in buying a completed new property is that you know it is finished, it can be that an off plan property can take longer than you had hoped, which has a number of knock on effects for your new life.
There is no doubt that old houses have a more immediate charm than a new house. If you want to live right in the centre of a town or village it is unlikely that you would even be able to find a new property anyway, but if you are keen to enjoy your new life straight away and not be having to deal with builders, decorators and plumbers, than a new home may just give you more of the French life you are looking for.
You might also like...