What Not to do as an English Person in France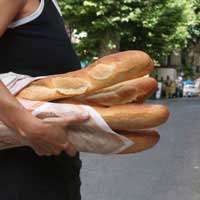 As an English person living in France, you have a responsibility to behave in a respectful manner.
Too many English people do not the see the parallels of openly criticising how many immigrants now live in the UK and the fact that they are immigrants in France.
There are a number of ways to behave that are not conducive to settling in to your new life in France - being a part of the French community and keeping positive Anglo-French relations.
Talking Loudly
When you start your new life in France, you will go to supermarkets and shops and talk normally. You and your family will discuss what you need to buy and your plans for the day, just as you would when shopping in the UK. This is fine, until you overhear another English voice and realise just how loud they sound. You, too, will have sounded like this. It is amazing how much louder an English voice sounds above the general French chatter.
You will also cringe when you over hear a fellow expat asking a French shop assistant for something - invariably they just repeat it in English, getting louder and louder, as though this makes your request clearer somehow. It does not. Work out what to say in French and then ask in a respectful manner, you will have a greater chance of getting what you want and will not look like a classic British expat in the process.
Not Integrating
There is no point starting your new life in France and trying to live like you did back in the UK. There is no shortage of expat communities who will help make you feel welcome and they can be a great source of information and support, but do not restrict your cultural and social activities to the local expat society or you will miss out on the rich French lifestyle.
Criticising the French Way of Life
To get the most out of your new life in France, you need to embrace the differences. When you go to pay by cheque and they ask to see your passport, do not turn your nose up, just accept it. When you see a dog lying next to your table in a restaurant, do not say that health and safety in the UK would not allow it. You are in France now and they do allow it, so you making a scene will just make you look pompous and highlight the validity of the stereotypical expat.
Try to Live Like You are in the UK
There is no need to work rest and play the same as you did in the UK. There are so many opportunities available if you allow yourself to think differently. Rather than be frustrated that all the banks close for two-hour lunch breaks, take a long lunch yourself. Instead of trying to hunt out HP sauce and Heinz Baked Beans, get to know the local speciality and perfect your French cooking. You do not need to sit glued to soap operas either - watching French television is a great way to pick up the pace and inflection of the language.
You might also like...