Dealing With Your First Christmas Abroad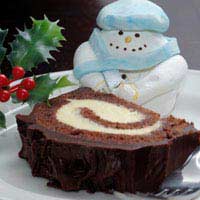 However happy you are in your new life in France, you will need to prepare for your first Christmas 'away from home'.
Festive France
There are all manner of wonderful Christmas traditions in France, especially in the towns and villages, which can really make you feel part of something. Many towns have stalls and activities throughout December, with the town squares buzzing with vin chaud booths and festive music.
It is common for towns and villages to have raffles and competitions around Christmas, with newsagents selling tickets. The prizes can be quite impressive, such as electrical equipment and hampers full of luxury goods. If you live in a village, taking part in the local raffle is a good way to join in, be a part of the festive fun and get to know your neighbours as the draw invariably takes place over a few glasses of wine on evening before Christmas.
Even if you have settled in well to your new home, you may miss the sights and sounds of Christmas in the UK. The shops play different festive music and although you may have been frustrated with the British high street playing 'Mistletoe and Wine' from October onwards, you will be surprised how much you miss it!
Posting Cards and Presents
Shopping for Christmas presents is a pleasure in France. You have the knowledge that you will be sending your friends and family something unusual as there are a number of brands available in France that are not common in the UK. Young girls especially appreciate the designer stationary available - good value in large supermarkets - as none of their friends will have the same thing. Mums, aunts and female friends will be pleased with beauty finds from French pharmacies - there are a number of chic cosmetic brands that are a pleasure to keep in your handbag or on your dressing table.
The added bonus of shopping in France is that the majority of shops will gift wrap your purchase, however small, with beautiful paper and a bow. This saves considerable time when you are completing your Christmas shopping and adds to the 'French experience' for your recipients.
When buying presents to send back to the UK, bear in mind the cost of postage. French post offices are busy at the best of times, so post as many items at the same time, perhaps sending one large package to a family member to distribute, rather than individual items.
Buying Christmas cards in France is less successful - the French prefer to send 'Happy New Year' cards, so the choice is limited. You may prefer to make your own, perhaps with a photo of you in your new home, or choose local postcards instead and write a festive message.
Christmas Dinner
The growing expat population means that it is getting easier to find British Christmas classics in the supermarkets. Brussels sprouts, cranberry sauce and Christmas pudding are now quite easy to find in larger towns, although the prices can be extortionate.
Even if you decide to do as the French do at Christmas and enjoy your main celebratory meal on Christmas Eve, you will still have a wave of happy homesickness as you settle down to enjoy your roast turkey and all the trimmings to the sound of Slade on Christmas afternoon. If you have English television you can even watch the Queen's Speech!
You might also like...