Benefits of Holidaying in Mainland Europe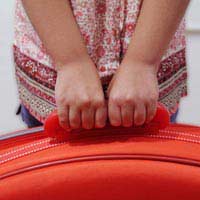 However much you love your new life in France, there will be times when you want to get away.Whether it's your anniversary, birthday or you just fancy a break, when you live in France it is easier than ever to have a European break.
Cheap Flights
Thanks to the large number of low cost airlines, you are bound to be near a French airport that has cheap flights. You do not have to limit yourself to the UK brands such as Easyjet and Ryanair - why not join the mailing lists of some of the European low cost airlines such as German Wings and KLM, that way you will benefit from their special offers, too.
As with all low cost airlines, you are able to get better deals if you are flexible on date and destination.
Driving
Living in France means that you do not have to take a flight or ferry to get to mainland Europe. You can decide one morning that you fancy a few days away (renovating an old French house can do that to you) and just pack a bag and jump in your car. It is a good idea to take your passport just in case although it is unlikely to be checked.
Driving is also more environmentally responsible than flying, especially if you have a low emission car. Historically, petrol was always about a third cheaper in France than in the UK, but currently it is only around 10 pence per litre cheaper.
Hotels
The French do low cost, motorway hotels really well. There are vast amounts of affordable chains up and down the motorways in France and mainland Europe, such as Campanile, Premiere Classe and Village Hotels. It is worth looking at their websites to get the best deals and you can sign up to their free loyalty cards which give you some perks and preferential rates.
You can also find many of these hotels in towns and city centres, with the nicer locations being slightly more expensive than the motorway branches. Just be careful that you check if there is a French or European 'bank holiday' before you travel because this will put paid to your peaceful trip - every one will have the same idea and there will not be any vacancies.
The Euro
Holidaying in mainland Europe has been made even easier since the introduction of the Euro. Although there is a slight loss of school trip nostalgia - counting your francs or marks - it is far more practical and makes trips a doddle. When you live in France, you will already be used to the euro, so trips to most other European countries will not need you to change money in advance.
Trains
Train travel throughout mainland Europe is a pleasurable experience - the trains are usually far more punctual than their UK counterparts and more affordable, too. You can now book train tickets to anywhere in Europe on the internet. If you book a day time ticket, you will have the added benefit of enjoying the beautiful European scenery, although it is also rather exciting to have a sleeper ticket, so you board the train in one country and wake up in another.
France is famous for its high speed TGV train, which can take you from Paris right down to the Languedoc in the south. There are also plans underway to take the TGV right to Barcelona and even further into Spain during 2009.
You might also like...