Life Abroad Since the Internet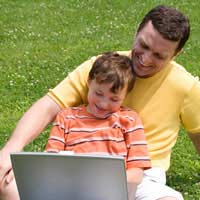 The internet has changed life for everyone.For expats and potential expats, the benefits of the internet mean that our work, social life and communication with our families has become cheaper, easier and more flexible.
Since broadband internet connections, laptops and mobile phones became more available in even some of the most rural areas, people who may have only been able to move to France after they retired can move now and continue to work.
Working
With many jobs able to be fulfilled through email and file sharing, working in France is not the logistical nightmare it once was, as we can send information practically in real time. This is helped by the increase of low cost airlines operating from a number of French airports across the country, so you can easily attend a meeting if required.
Thanks to the internet, your physical location is now not as important as your skill set. You can work for a range of clients across the world, with only your website and email address required. Although you may not choose to divulge your location to your clients, you may find that your flexibility is a selling point as your new life is likely to mean that you can work weekends if required.
Social Life
The internet means that you do not have to lose touch with friends just because you move. You are no longer reliant on snail mail to maintain contact - you can email back and forth, send photos of your new home and chat using a web cam.
If you are a member of a forum, either for your work or your hobbies, you can still 'talk' to the same people regardless of where your laptop is plugged in.
Joining social networking sites is a great way to keep in touch with your friends. Although you may feel as though you are missing out on the Friday night party everyone is raving about, imagine the joy of typing your status updates from your new home in France!
Cheap Communications
The internet has introduced a vast range of communication options which help to make the move to your new life in France even easier. It is worth your while to invest the €10 to buy a USB phone and sign up to one of the free VOIP (Voice over Internet Protocol) providers such as Skype. This allows you to make free calls through your PC or laptop to other Skype customers (get your friends and family to sign up - it's free) by simply downloading a programme.
Shopping
A common cry from expats is that they miss certain products and goods they used to enjoy in the UK. OK, it's not enough of a reason to move back, but the internet means you can have the best of both worlds! You can live in your lovely French home and have Marmite and Clarks shoes delivered to your door - perfect.
Many UK companies are happy to deliver to France for a few euros more than their UK delivery price. You can also enjoy browsing internet auction sites and have your purchases delivered to France - pretty much everything you could want is available.
You might also like...