Sun, Ski, Surf & Shop in France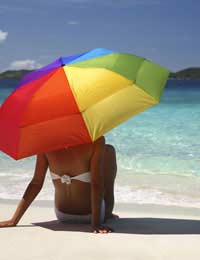 France is the most popular tourist destination in the world. The glamour of St Tropez, the excitement of skiing in the Alps, the boutiques of Paris - France really has got it all.
No wonder, when it has the most beautiful scenery, wonderful fresh food and all manner of activities to keep you entertained.
When you move to start your new life in France, doubtless your first few months will be filled with paperwork, renovation and getting over the inevitable homesickness.
But once you have found your feet and are able to communicate more easily, take a little time off and perhaps have some visitors over, there is so much to enjoy across France. Here are some ideas.
Shopping
There is a good reason why Paris is such as popular destination and it's not only for the romance. Fashionistas flock to Paris to browse the vintage markets and the trendy boutiques. The Avenue Montaigne is filled with designer stores and Collette is a must visit (think of an even more perfect Selfridges and you've got the idea).
Eating
You can buy the freshest produce from the markets in France and you are likely to live near a weekly or even daily market. Bergerac, Honfleur and Narbonne are particularly noted for their food markets, although you are unlikely to be disappointed wherever you go. Don't be afraid to ask what is fresh that day, or what the stall holder recommends - they are not only there to make money, there are there to sell the best produce they can.
Sunbathing
France is full of wonderful beaches. If you are keen to make the most of the beach when you move to France it is important that you choose your location as, unlike the UK, some areas of France, such as Alsace, can actually be many hours drive away from the coast. The south of France, Provence in particular, is famed for its temperate climate that allows you to enjoy the sun at the beach for at least six months a year, although even a Christmas Day walk is a pleasure if you wrap up.
Skiing
There are a number of places in France that can enjoy the benefits of the beach one hour in one direction and the snow an hour in the other. If you are a fan of skiing, snowboarding or any of the other crazy snow sports, the Alps are the place to be. Whatever type of après ski you choose, there is the perfect place for you just waiting for you to pack your goggles and hop on the chairlift.
Culture
When you have bought your perfect handbag, eaten a plate of garlicky snails and caught a few rays, there is plenty of culture just waiting to be experiences. From the Louvre to the Palace of Versailles, there are endless amazing places to visit in Paris alone.
Sports
With a World Cup winning football team, the Tour de France and a love of rugby, sports fans are pretty well catered for in France. Whether you want to join a team or just be a vocal fan (allez bleus!) France is a great place to watch, play and enjoy sports.
You might also like...