Choosing a School in France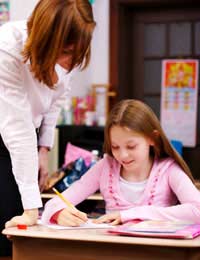 When you are looking for your new home in France, if you have children of school age you will also need to take into consideration the local schools and amenities.
Standards of free schooling are generally very high in France, with some British expats believing that French teachers are much stricter than their UK counterparts. This is rarely considered a bad thing, though, as French children are taught to respect their teachers and people in authority far more than is the current trend in the UK.
Teachers in France are not at all soppy with pupils, with praise and criticism handed out openly in front of other classmates, with children expected to handle it. This results in children having a greater confidence, which can be seen as arrogance, but is far better than being filled with self-doubt.
If you can, allow your children to have some French tuition before you move to France so they are better able to integrate into their new school. It is amazing how quickly young children can settle into their new school, make friends and become bilingual, but it can help the first few weeks if they understand some of the language.
School Year & Times
The school year in France starts on September 1st, with longer summer holidays and shorter end of term holidays than you will be used to in the UK. The school holidays differ slightly from region to region, to allow families to make the most of local or national facilities, such as skiing and tourist beaches, without the whole country going at the same time. This also means that French roads do not have that 'first day of the summer holiday' rush, although bank holidays are still popular throughout the country as a day to get away.
The school day in France is more spread out than in the UK, with morning classes between 8.30 and 11.30, two hours for lunch, then afternoon classes from 1.30 to 4.30. The lunch break can either be taken at home or at school, where their will be a good quality, home cooked meal. French children do not attend school on Wednesdays but they do attend on Saturday mornings. You will need to bear this in mind when planning childcare and employment.
Different Types of Schools
When it comes to choosing a school, you will see that the free French state schools are generally of a very high standard. Primary schools are in most towns and larger villages, with secondary schools in larger towns, with buses provided. These schools are the usual choice - the standards of teaching and manners are high. You can also look at secular schools, where you will pay a contribution to the school, but they are also part funded by the state. Private schools and international schools can be very expensive, although if your child is part way through GCSE's or A Levels, you may need to consider it so they can continue with their examinations.
Good for Parents
As parents, your child's school will also be a key factor in your integration into the local community. You will be able to meet parents of their new friends and perhaps get involved in the school events. If your child attends a state school, their rapid learning of the language will also help your own - it is rather common for new expats to take their children to appointments so they can translate!
You might also like...