Importing a Car Into France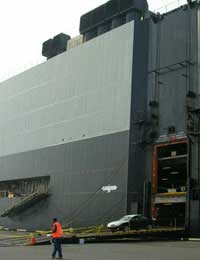 The European Union is supposed to allow EU citizens to live and work in any EU country with ease. While this is the case for some aspects of the relocation to your new life in France, some elements seem to be far more complicated than they need to be.
Importing your car from the UK to France should be a straightforward process of registration and documentation, and this is the case for the lucky few that have a friendly mairie and mechanics as mates. However, if you are one of the majority of less lucky expats, you are likely to find the importation of your car rather a headache.
Don't Be Fooled!
Although you are likely to hear of vast numbers of expats that have never changed their UK registered car to French number plates, still have an MOT and have never had a problem, if the gendarmes stop you, they can fine you. They love to fine you, in fact, especially if you do not have your insurance and licence documents in the car.
In order to import your car to France, it will need to conform to French construction and use regulations. This can mean that you will have to change some parts of the car, depending on its specifications, which can typically include the headlights on both a left and right hand drive car and the type of seatbelts. The conformity regulations became stricter as of January 2008.
The Process
The best place to start is your local 'mairie' (the mayor), especially if you live in a small village or town and can have direct contact with him (it usually is a 'him'). If you live in a larger town or city, you are more likely to speak to a person who knows the process if you visit your local prefecture - these 'county hall' equivalents can be found in the main town or city of your department. While the exact details can vary from region to region, as a rule you will be given a list of requirements that you will need to fulfil before officially importing your vehicle.
This is where the trouble starts. The list of requirements may as well ask for 'eye of newt' for how easy some of the items are to obtain. Persevere! There is no other way to import your car so you have to accept the process.
Registration Documents
This is the logbook from the UK - so far, so good
Sale Receipt
The receipt from when you bought the car, regardless of whether it was from a dealer or ebay. Not too tricky to find, hopefully.
Manufacturers Certificate of Conformity
You will get this letter from the manufacturer of your car. You have to ask for it by writing to the correct department of the car manufacturer. Finding the correct person can take ages, and then you will need to speak to them in French and request the letter. They will tell you to write to them and send a cheque, usually around €100. You will have to get a chequebook. You will have to write a letter in French. This can all take a while!
Proof of Origin
No one is very clear how this differs from the sale receipt, but you are expected to have two pieces of proof that you bought the car.
Proof of ID and Residency
This is your passport and at least two utility bills for a period covering at least two months. You can also use your carte de sejour if you have one.
Controle Technique
This is the French equivalent of the MOT, although it is only required every two years on cars over four years old. The garages that offer the controle technique cannot make any repairs of adjustments, so your car will only pass or fail, although if it fails you will be given a list of what needs to be rectified so it can pass. Make sure your lights are suitable for driving in France (beam to the right) or your car will certainly fail.
Once you have the lengthy list of items, you need to take them to the prefecture to request a carte gris - the French equivalent of the UK logbook. You will have to pay a fee. Assuming you have managed to achieve all the requirements of the list, you will receive a letter in the post with your carte gris and your new number plate details. Take these details to get your number plate cut. Simple!
You might also like...
Need some advice please.covid has slowed our plans to move to France and it seems increasingly likely that my husband and I will not be able to move until next spring. We keep finding conflicting advice on healthcare.We are retired and would like to know if we apply for residency within the three months of arriving - do we have to take out a full private health care plan (which is astronomically beyond our means).Or can we apply for the French health care with a top up Mutuelle plan when we arrive?We have more than enough funds to qualify for the visa and subsequent residency requirements.
lily
- 9-Nov-20 @ 11:18 PM