Making Friends in France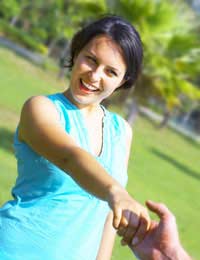 How successfully you make friends in France will be a major factor in how happy you are in your new life.
You will have been used to a support network in the UK of friends and family, which, while you will still be in regular phone contact and frequent visits, it is not the same as face-to-face contact.
In addition to the support of friends, you will also find your new friends in France to be a valuable source of information that will help you to settle in - where is the best place to buy plaster, do they know an English speaking doctor and what type of insurance do they have? These questions can take months to find out, so a group of friends that have been through it themselves can help a great deal.
There are a number of different ways to meet new friends when you move to France. Expats are often friendly bunches who are keen to help a newcomer, but you are also likely to want to make friends with local people who may be more in tune with your interests.
Clubs
The best way to meet like-minded people is to join a club. If you were part of a particular organisation in the UK, it is worth looking for the same type in France. Even if you are unable to communicate clearly in French, your shared love of climbing, tap dancing or whatever can help you to forge strong bonds.
Schools
New expats with children of school age have a great advantage - not only do they get to meet other parents at the school gates or functions, but their children are likely to pick up the language quicker. If you get involved with a parent and teacher association or bake cakes for a school fete, you will be able to integrate quicker into your local community.
Anglo French Organisations
Most large towns and some villages in France have some sort of Anglo French organisation. You can look on the internet for a group in your area, or try forums and local shops. These places are a great source of information about trusted artisans, English speaking accountants or dentists and the like. There are often regular events such as wine tasting and quiz nights. The best groups are those with a good mix of French and English members, allowing expats to learn about France and anglophiles to learn about the UK.
Neighbours
When you move to France, you will gain a new set of neighbours. In a small town or village, your neighbours are likely to know who you are even if you do not know them! Although dinner invitations are not commonplace for new neighbours, you may be invited for drinks, or aperos, when you arrive. You may also wish to invite your neighbours for drinks at your new home - again, dinner is not expected, but some nibbles with drinks will see you integrated into your new community in no time.
Bars and Restaurants
Once you have been to the same bar or restaurant a few times, you may find that you are greeted far more favourably. While this is not a sure fire way to make good friends, being welcomed into your local bar or restaurant is a great way to help you feel more at home. After a while, you will be seen as a regular, rather than a tourist.
You might also like...
Hi.I moved to France last summer and am looking to make English speaking friends or join clubs in the area.I live in Pissy-Poville, a small community about 13 kms from Rouen.Does anyone have suggestions and or ideas, or even places/events that I may attend?It's a little lonely living here - beautiful as it is.I speak French well enough to communicate and hold a conversation in most situations.All help is and will be greatly appreciated.Thank you
Natalie
- 27-Jan-19 @ 1:25 PM
Halo. I wish you can help me , i want to make friend in France
manulang
- 15-Nov-18 @ 12:59 PM
Its my desire to learn new culture, meet new friends all over the world, especially France. I shall be happy if your services could be of help to meet friends in France,,,, am planning to visit France this month. cheers
Nana
- 5-Feb-18 @ 4:47 PM
Hi could anyone give us advice please My sister and husband have a holiday home in rural France, it is a detached property that has a garden on both sides (one side of which my sister has access to) the house that the garden belongs to is across the road. the owners live in Paris and only visit a couple of times a year to attend to the grass which they leave piled up outside my sisters access door. so she can't use it.not that she would. My sister has asked the neighbours if they could cut the branches back from her house which are encroaching onto her roof, to no avail. My Sister has also put up a small satalite dish to the side of the house to which they have access, the neighbours cut through the wires and told them to remove satalite dish as it was in their kitchen area!!! (this is a detatched house) The Mairie Told my sister to remove it so not to cause any agro ( which they did) The neighbours are now on the warpath again as my sister has a new bathroom and the downpipe is on the outside wall next to the neighbours garden. The situation has been going on for yearsMy sister is now at her witts end and this has ruined her whole experience of having a holiday home in France!!!! Please can anyone suggest what to do next? Thankyou.
ormbow
- 5-Nov-15 @ 10:45 AM
I like to inform you that I am going to make one company in france thus I want to find a business lady in there and help to find all of infomaton for me . This job can be one tourist job, sales or manager web .for start we plan to make one web manager in internet.please send me a reply .with thanks.
SHIN
- 2-Oct-13 @ 6:34 PM