Having Guests to Stay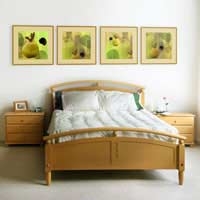 Having guests to stay in your new home in France is mostly brilliant.
It is really great to share your new life with friends and family – cooking them meals with local produce, enjoying the French summer sunshine and enjoying the company of the people that you miss. They may even bring you over some Marmite and magazines!
But having guests to stay, whether it is family, relatives, friends or colleagues, can also be quite stressful.
If you ask any new expat what they find most difficult about having guests to stay in their new home in France, most of them will say that their guests do not realise that they are not on holiday, too. It can be a source of tension if your guests do not just make themselves at home and let you get on with your normal day. This is especially true if you work from home, as many expats do, because it can be hard to explain that you are still working, even though you are in your own home.
The Good Guest Test
The Good Guest Test seems to be about that good old UK tradition, the cup of tea. A good guest will not only put the kettle on themselves, but will ask you if you want a cup of tea. These people tend to be the ones that will see that the dishwasher needs emptying or that you have run out of milk. As you will appreciate, this makes for a totally different guest experience than if you are expected to cater for their every whim.
It can be terribly hard to entertain a guest for any longer than two nights if they do not attempt to help in any way, so you should either keep visits with these guests short or suggest they use a local hotel or apartment if they want to stay for longer.
The Money Issue
Having guests to stay can be quite expensive. Invariably, you will cook more elaborate food, drink a little more wine and perhaps take a day trip or two. Added into that the cost of a meal or two out and perhaps the need to buy sheets or towels and you have a costly week.
Now, often the joy of having guests to stay and share your new live in France even for a short time can be compensation enough, especially if you are in a comfortable financial position. But if you are more aware of your disposable income, having friends or family to stay can blow your weekly budget.
A good way to deal with this is to be totally up front with your guests. You can say how much you are looking forward to seeing them and that you appreciate their expense in making the journey. Suggest that you all chip in for the food costs, or suggest that you go to the supermarket together to buy food for the week. Alternatively, you can say that you are really looking forward to sharing some home cooked meals with them, rather than making out you will be 'entertaining' them for their trip.
You might also like...