Making Friends with your Neighbours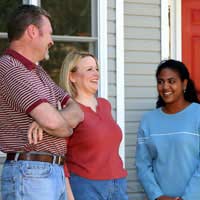 Making friends with your neighbours at your new home in France is a great way to start your new life. Expats often say that they miss a sense of community when they first move to France and, coupled with feeling homesick, this can make you feel very isolated.
You may think that your French language skills are not good enough to make friends yet, but even just being able to say a few words and show that you are keen to make an effort is a fine start to a new friendship.
The vast majority of French people do not expect new expats to be fluent in French straightaway, but they do expect you to try and learn French as quickly as possible, which is perfectly understandable. By introducing yourself in French and saying good morning and good afternoon, you are showing that you want to learn and that you respect the French language.
Introduce Yourself
Although you may think it is too formal or too scary to go and introduce yourself to your neighbours, it is quite normal in France to do this. Indeed, it may even be seen as a little rude if you do not. This is more common in towns and villages rather than in larger cities. If you are moving a large city in France, or right in the centre of a busy small city, then it will not be expected as there are far more people coming and going. But if you move to the suburbs or a town or village, your lack of introduction will be seen as a bit of a snub.
If you are concerned about introducing yourself and are not comfortable with the idea of a dinner party in French with strangers, then there is no reason why you should host one. French people are far more comfortable with the offer of a morning coffee or aperos as the first meeting with a new neighbour.
Aperos are popular in France – a small alcoholic drink and a few nibbles at around 6pm is the norm. Your guests will not expect to stay for supper and they may only be at your home for up to an hour, so this is the perfect way to show that you are keen to be making new friends, without the stress of a full dinner party.
Join In Local Activities
Whatever the size of the village, town or city you have moved to, there will be plenty of local activities to get involved with, you just need to look for it. Most places will have a newspaper, free paper or tourist information centre that is a great place to start. Looking on the internet is also a good idea – many of the expat websites have department specific information.
If you do not feel comfortable inviting your neighbours to your home, by getting involved in local activities they will at least see that you are keen to get involved in local life.
When you see people that you recognise, make sure you say 'Bonjour'. One small word of warning though, French people can think that incessant smiling makes you look gormless, rather than friendly. This is a tricky line to get right, because it is a common polite greeting in the UK to smile at people, even if you don't know them. (Not a full on grin at every Tom, Dick or Harry, but a friendly smile when you pass someone in the street in a small town.) French people do not tend to do this, so perhaps rein it in a little!
You might also like...