Your First Christmas in France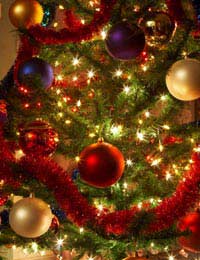 Your first Christmas in France is a terribly exciting time. There is all the excitement of putting up the decorations in your new home, making new traditions for your family in France and finding beautiful French presents to send to your family and friends.
It's Funny What You Miss
But there is also that feeling that it's not quite right, not quite the same Christmas you're used to. Finding sprouts is very tricky in France, with cranberry sauce and mince pies practically impossible. Not to mention no Morecombe and Wise Christmas Special or hearing that East 17 song with bells in Woolworth's for the hundredth time.
It's funny what you miss at Christmas when you are in France. It may not even be the things that you particularly liked when you were in the UK! You can find yourself frantically looking for a Frank Sinatra Sings Christmas CD on the internet when you never even played it back in the UK!
Make Your Own Traditions
It is a good idea to start to make your own Christmas traditions when you move to France rather than trying to replicate what you used to do in the UK. You can take elements of what you love about Christmas in the UK and mix it with your new life so that you get the best of both worlds. If you just try to have Christmas the same – same food, same timetable, same music – you may find that the inevitable differences stand out too much and make you feel too homesick. But if you see what you can adopt from the French culture and mix it with what you are used to, you will be able to have a Christmas that is positive and achievable.
Don't forget that Christmas can be stressful enough as it is – trying to find the right presents, arranging parties and get together's, trying to keep all of your family happy (especially if you have different generations all under one roof). It is no surprise, then, that your first Christmas in France will have an additional element of stress, so be kind to yourself and do not try and make everything perfect as it simply is not possible.
Two Top Tips
There are two things that you can do to make sure your first Christmas in your new life in France goes as smoothly as possible.
Firstly, before you move make up a box of your favourite Christmas things – if you always light a cinnamon candle, buy an extra one or if you love to watch an old film on television after your Christmas dinner, make sure you have bought a suitable DVD instead of being disappointed on the day. Gather together your favourite Christmas tree decorations and pack them carefully. Perhaps add in some cranberry sauce and a Christmas pudding, too!
Secondly, read up on what a French family does at Christmas and talk to your own family about it. They may love the idea of doing some traditional French Christmas activities, like having roast duck on Christmas Eve and visiting a Christmas market to get wooden decorations and chestnuts.
By making your own family Christmas with the memories from home and some new elements from your life in France, you won't have time to feel homesick. Just be prepared for the phone bill to come in January!
You might also like...