The Stresses of House Renovations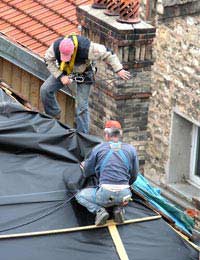 Many people who move to France to start a new life in the sun buy houses that need renovation.
Some of those people are qualified builders that have renovated a number of houses before in the UK and have vast experience in using local tradesmen, going to builders merchants and donning overalls.
Plenty of others, however, have barely picked up a paint brush, let alone renovated a whole house.
Not only are you trying to renovate a house, which is stressful enough, especially if you have never done it before, but you are trying to do it in a new country, in a new language and without the support of your friends and family.
So you can see where the stress happens!
In order to minimise the stress of house renovations in France, there are a number of ways to make it a little easier.
Pay For Experts
The first idea is to see if you have it in your budget to pay for builders, plumbers and electricians, at least for the most technical aspects of the renovation. It is a good idea to get an expert opinion on what needs doing and in what order, ideally from an English speaking builder.
Do be aware that the builder may have their eye on the job and see Euro signs flashing before their eyes, so if you can, find a builder or surveyor that will explain the necessary jobs without expecting to be given the project. A good way to find such people is to look in the local newspaper, or online at the expat sites. If your French is good enough, then it would be better to use a local trades person, but as it will be at the beginning of your French adventure, your language skills may not be up to it.
Check Your Budget
Secondly, you need to know what money you have available and what skills you have. You can learn new skills, of course, and if you have the time to learn it can be a very cost effective project. Think about what aspects of the project you can do yourselves and which parts it would be more sensible to call in the experts. There is no point paying people to paint the walls if you are happy to do it yourselves, but perhaps the wiring is better left to the professionals (especially as they will need to sign it off so your insurance is valid.)
Set Realistic Goals
The third point is to appreciate just how long a house renovation can take, especially if you are trying to do as much as possible yourselves on a small budget. This is especially true if you need to earn money in between to pay for it, or are working from home in amongst the building work.
Be realistic about the time schedule and it can take a lot of pressure of your shoulders. There is no point in thinking that you will finish a whole house in three months if you have never done it before. Set realistic goals and you will reduce the inevitable stress.
Don't Get Too Obsessed
Finally, be kind to yourselves. If you and your family are living on a building site and your only trips out are to the building suppliers, take a day off to do something different. It can be all too easy to focus everything on your house renovations, but you still need time to be a family and enjoy your new life in France.
You might also like...