Running a Restaurant in France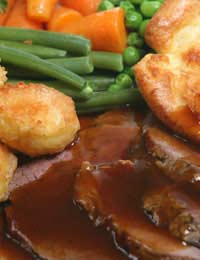 French people love to eat out – there are loads of options for breakfast, lunch and dinner in even the smallest towns, and you will always find somewhere that's ready to serve you a delicious meal at a relatively reasonable price (as long as you don't arrive before 12 or after 1.45 in the afternoon). French people see eating out as a normal part of life rather than just a treat, with workers of all salaries keen to enjoy a well balanced cooked meal at lunchtime when their British counterparts may be gobbling down a sandwich at their desk.
So you'd think that running a restaurant in France would be a licence to print money – all those customers willing to dip into their pockets day after day, expecting very little in the way of choice and being relatively traditional in their tastes so you don't have to dream up new menus all the time?!
Well, that may be true if you have a well-established business in a good area, have plenty of family willing to work for nothing and a fair landlord, but for many British expats looking to start a new life in the sun, running a restaurant is anything but easy. But that's not to say that it is impossible – there are plenty of success stories from Brits that have settled in France and are running successful restaurants, but you do have to be well organised, well prepared and well connected.
Types of Restaurant
There's no point setting up a French restaurant in France – French people mock English cooking and think all we eat is 'boiled meat and jam', so you'll never convince them (especially in non-urban areas) that a British person can be a chef in France – cooking French food! However, the types of international cuisine restaurants that are popular in the UK are steadily gaining fans in France, especially amongst the expat population, as are good 'home style' British restaurants, so you could consider opening a restaurant for good curries (Thai, Indian or Vietnamese are popular), fish and chips, roast dinners and other traditional British foods or local British specialities like Cornish pasties.
Correct Permission
There is an awful lot of paperwork involved in setting up a restaurant – you need the leases on the property, the inspection for the kitchen and the correct certificates for your chef and their team. You will also need to ensure that you have the right legal permission for your business in terms of your tax status as you will need to charge TVA (VAT equivalent) so a good accountant is imperative.
Operating Requirements
The reason that so many restaurants are run by families in France is for the most part connected to paying staff – not in the same way as is done in the UK, but rather because employees cost such a lot in terms of 'coitisations' or social charges. It can cost the employer an extra 46% on top of their hourly rate to employ someone, and you can still only employ them for a restricted number of hours per week. This is why you will find many restaurants turning customers away towards the end of their shifts – not just because they want to go home, but because they cannot legally use their employees outside these hours.
With the right set up, marketing and organisation, running a restaurant in France can be a great way to get to know people in your local community, enjoy the quality of life that you moved to France for and get to be your own boss.
You might also like...
prii - Your Question:
Hey! I need an advice from your side.i want to open a indian restaurant in france.where should i? will that work?if not then where else outside india I should open a restaurant?please revert back.thankyou :)
---
Our Response:
We can't give individual business advice sorry. One of our readers may be able to recommend something to you though.
NewLifeInFrance
- 16-Mar-17 @ 11:02 AM
hey! i need an advice from your side.i want to open a indian restaurant in france.where should i? will that work? if not then where else outside india i should open a restaurant? please revert back . thankyou :)
prii
- 14-Mar-17 @ 7:21 AM