Talking to Your Children About Moving to France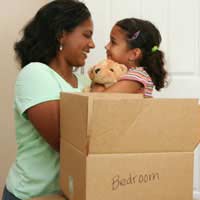 Moving to a new life in France is a big deal. Not only for you and for the family you will be taking with you, but your extended family and friends you see on a regular basis.
In order to get the support and encouragement you will need during the exciting and somewhat daunting time surrounding your move, it is important to involve the people around you.
If you have young children that will be moving with you to a new life in France, you will need to be careful how you talk to them about the move and remember how you felt about life changes when you were younger.
If you have older children who no longer live at home, perhaps with their own families, and you are retiring to France, you will also need to consider their feelings about your upcoming adventure.
While there is no reason that anybody else's opinion should overrule your own dreams, expectations and happiness, it is worth remembering that the move will so much more stress free if you have kept all your family and friends up to date with your plans and how you intend to maintain good relationships.
Young Children & Teenagers
How your children will feel about their new life in France will very much depend on at what point they are at in their own lives. Younger children may just be starting to get to know their own characters and be making good friendships at school. They may be a part of a club or after school class.
Don't just make your plans to move to France and wait to tell your children when everything is in place. Even young children can understand what is going on and they may be told something by other relatives or friends who assume you have spoken to them about the move. This will make the children feel left out and will not help them feel as though they are a part of the family, which will in turn delay or indeed jeopardise how happy they feel about the move.
Take time to sit and talk to your children, they will want to be part of the plans. Of course, you will need to make the ultimate decisions, so ask closed questions that you would be happy with either outcome. Suggest looking for new clubs for them to join and that the schools are very friendly. Also, make it clear that their friends will be very welcome to visit – even if this is actually unlikely to happen.
For older children, you will need to remember how you felt at their age. Moving to a new school is a very scary prospect, let alone in a new country with a new language. Do not dismiss their concerns, allow them plenty of time to get used to the idea. Do not say that it is all already planned, or they will feel forced into it. Look for the positives that will help to convince them of the exciting opportunity – if they enjoy sports, focus on the activities, or if they are into fashion, point out how chic and stylish their new life will be.
Grown Up Children
Although your children may no longer live with you and have a family of their own, they will still have feelings and opinions about your move. Some reasons may be rather selfish – for example, if you look after your grandchildren regularly they will be concerned over childcare arrangements. Others may be purely practical – what about healthcare and driving in France? In addition, your children may simply be jealous – starting a new life in France is an exciting adventure and they may be more used to you being content at home.
You will need to talk to your grown up children and tell them why you want to move to France. Clarify that you have done your homework and are looking forward to a new challenge. Say that you are keen for them to come and visit and that you will be at the other end of the phone. With cheap flights available from so many UK and French airports and internet communications, there is no reason why you would not be in regular contact.
You might also like...