Moving to France with Elderly Parents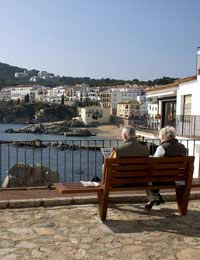 It is important to remember that this is a very emotive subject.
Although you may feel as though your business is no one else's, if you live in a small town or have a large extended family, you will be surprised to know how visible your life suddenly becomes when you plan to take your elderly relatives to France.
You will find that everyone has an opinion. It is up to you whether you listen to their opinion or not, but do be aware that your actions are likely to be picked over both in front of and behind your back.
Remember that your parents also have other relationships - friends, nieces, cousins - so although they are your parents, other people that have an opinion on their well-being are not necessarily only being judgemental, they are also concerned. It is fine for you to take a gamble on your own new adventure, as a couple or as an individual, but when you involve other people, their other relatives and social circle are involved too.
The best way to handle this inevitable onslaught of judgement and attitude is to be clear about your reasons, research the local area and be prepared.
Be Clear About Your Reasons
In order to not invite judgement, you need to be clear that you are doing the right thing. This will very much depend on how excited your elderly parents are about the move. If they are very keen, this will be all you need to say to people who criticise. If you are trying to convince your parents to make the move, you ought to look at your reasons why you want them to move with you - is it because you feel guilty about wanting to move away from them, or do you actually believe they will be happier?
Research the Local Area
It is irresponsible to just demand that your elderly parents move to France because you want to start a new life. If, however, they are just not sure about the move but are happy to find out more and are open minded, you can take them on a fact-finding mission before any actual move is confirmed. You can take your parents around the local area and show them the facilities that will appeal to them. They will perhaps feel a benefit to their health and energy levels in the milder climate. You will also see more older people, as the weather and more respectful culture means that it is common to see groups of retired men playing petanque or older women sitting and chatting with their friends.
Be Prepared
The majority of the views you will hear, from your parents themselves and from other people who care for them, will focus on how you will look after your parents. Friends will want to know that they can visit, other relatives will be keen to know they will be well looked after and that the healthcare provision is sorted out. You will want to know that you will not all be getting under each other's feet.
Take plenty of time to be clear that this is the right move and that you are not getting your elderly parents involved in your own dreams. Perhaps it is more practical for them to stay in the UK, or maybe you could invest in a holiday home rather than relocate totally, if your parents rely on you for their care. It could also be a very exciting adventure for your parents, so as long as you are honest about your fears and hopes, it could prove to be a great move for you all.
You might also like...