Big Differences Between UK and French Supermarkets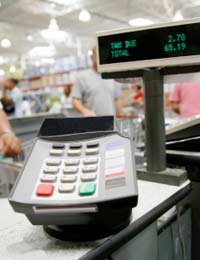 Most of us have fond memories of visiting the supermarket when on holiday in France. Drooling over the lovely cheeses and beautiful local fruits and vegetables is certainly an enjoyable part of visiting France.
But when you actually move to France full time, what will you actually come to miss about British supermarkets? It may be hard to accept that you will miss the mega-supermarkets that have come to represent a time and money sump in the UK, but in time you will. And here's why…
Only Basic Online Delivery
If you've come to greet your supermarket delivery man like an old friend, you will be sorely disappointed in France. Even though most of the major supermarket and hypermarket brands do offer some sort of home delivery after ordering online, the big difference is that you cannot buy everything they offer in store. In the UK, you can put whatever you like in your virtual basket and wait for it to be delivered to your door, often being able to order more than is available in your local store as it all comes from a central depot, but this is not the case in France.
You are often only able to choose from a very limited selection for online delivery, so you will not really be able to get a full week's shopping if that is what you are used to.
Very Few Special Offers
The whole 'buy one get one free' culture has not really taken off in France. You may get the odd 'buy two get the third half price' deal, but that's not going to make a big dent in your grocery bill. The deals are also rarely on 'healthy eating' type products but perhaps chocolate or biscuits instead. Remember that French people expect to spend a good proportion of their earnings on food – it is not seen as a 'cheap' item as it is in the UK.
This can be lovely when you're on holiday and you're enjoying browsing the shelves of French goodies, but it can be difficult when you're used to spending a certain amount on your weekly shop. The best way to handle this is to eat as the French do, rather than trying to replicate your British shopping trolley in France. Pick a small amount of good quality meat and have plenty of fruit, vegetables and salad – buying local produce (even in the massive hypermarkets) is considerably less expensive than imported produce.
It's also worth remembering that French supermarkets don't go in for price matching like they do in the UK, so the same product can be considerably more expensive in different supermarkets, and vary from week to week. French people often buy fruit and vegetables from their local market too, which is cheaper again.
Small International Ranges
In recent years British supermarkets have gone mad for international products – even in the smallest supermarket you can find basic exotic ingredients like sushi rice or good soy sauce. Not the case in France. It can be very hard to find any international products, let alone authentic or good quality ones. A good way round this is to buy when you come back to the UK, or seek out a good Asian/Indian/Polish or whatever supermarket online which will deliver to France.
Limited Ready Meals
If you're used to popping a decent ready meal in to your trolley for those days that you do not want to cook you'll need a new tactic when you move to France! While there are a few ready meals available, they tend to be very poor quality when compared to British ready meals, especially the more 'upmarket' supermarket ranges. The French ready meals can also seem very 'out of fashion' – no gastro pub ranges or authentic curries. Either get used to batch baking so you've got something in the freezer for those nights when you come home exhausted, or do as the French do and buy a cooked dish from the 'traitor' in your local town.
No Plastic Bags
This is one area where French supermarkets seem to be ahead of the UK, although it can be a pain if you're not prepared. Very few French supermarkets give you plastic bags now, and it can even be tricky to find large plastic bags to buy once you're at the counter. Most French people keep their shopping bags in their car and decant their shopping from their trolley, so it's worth getting used to this eco-responsible solution.
You might also like...