Earning a Living in France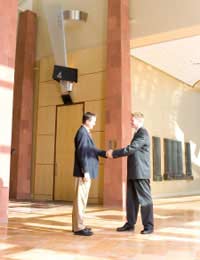 Unless you are retired or are lucky enough to have an adequate trust fund or rental income from the UK, you will have to earn a living to pay for your new life in France. Even if you do not have a mortgage to pay for you will need to fund your bills and living expenses.
There are many ways that expats earn a living, with some ideas more suited to a range of backgrounds than others that may require specific training.
Running a Gite
Running a gite is a very popular way for expats to earn a living in France, especially as until recently there were a number of grants available for gite owners in rural France. However, these are becoming harder to come by as more and more British people buy such places in order to run them as commercial ventures. The grants are still available in particular areas, predominantly those where there is a market to support them all year round, rather than the traditional tourist destinations.
Please be aware that running a gite is a lot of hard work. Many expats think they will suddenly enjoy getting up early to cook people breakfast and wash loads of sheets, even if they worked in a bank or office in the UK. Of course, some people love to serve others, but do not think your character will fundamentally change just because you have sailed across the channel.
You must also be aware that the type of properties that make excellent gites are also those with a higher price tag as they will be larger than your family would require by themselves. Coupled with the fact that running a gite is not necessarily a high income job and the figures may not stack up.
Continuing Your Trade
If you have qualified in a trade in the UK, there is no reason why you should not continue in France. The opening of the EU has made it even easier to live and work in France, although you are strongly recommended to seek professional advice before starting work in France.
Many expat tradesmen find that there is a great deal of work to be had by networking within the expat community. Although this will not help you learn the language, it can be very good for your business. This is especially true if your trade is connected to property development and renovation or financial services. These are the areas that most expats require some assistance in, you are bound to have a steady stream of clients.
Transfer From Your UK Employer
If you work for a large employer in the UK, it is possible that you can request a transfer to their French office. This may also be possible for commuting or virtual work, depending on your industry. Some employers are very forward thinking and can see then benefits both for you and the company, although employers that are more traditional may need some convincing.
If you can be transferred, this reduces the number of red tape headaches that you will have to deal with, as your employer will handle most of the paperwork and you will not need to complete some of the forms and registrations that other expats require.
Buying a Business
If you look on any expat forum, you will find a large number of French businesses for sale, often from expat owners. These businesses are often shops, bars and restaurants, although all sorts of random businesses are there if you want to find them. It is important to find out why the sellers are selling - remember that they will tell you that business is great, they are just looking for a new challenge. If possible, as around the local area to get an impression of what the locals think of the business, as you will be buying the reputation too.
You might also like...
me and my family are thinking of moving to france how do we do it
gazza
- 2-Oct-15 @ 5:03 PM
@fonzy. there's no better way to find out all this than to talk to people who've done it already. You try and find some relevant groups on Facebook or information on Twitter. Or join some online forums like
Expat Forums
, or
British Expats
etc.
NewLifeInFrance
- 23-Dec-14 @ 10:53 AM
i am moving to saint Denis at the end of january to be with my fiancé who is french, i have been studying electrical installation for 3yrs with the aim of using my skills in this field of work in France, however at this stage my french is of a low standard and i plan to study when i arrive in France, i am quite scarred of the prospect of emigrating but i really want to be with my partner,can you offer any suggestions about how best to find work and assimilate into the culture
fonzy
- 21-Dec-14 @ 1:37 PM