Getting English TV in France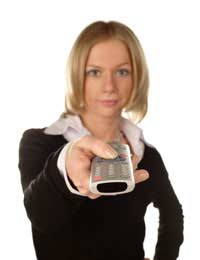 Although watching French television and listening to French radio is a great way to develop your language skills, it is not nearly as comforting as watching some escapist television in your own language after a stressful day of being new in France.
There are a number of ways that you can have English television and radio in your new in France, ranging from the cheap and easy to the more expensive and rather more tricky, although ultimately more satisfying.
On Demand Television
This is a relatively new provision of television through the internet. Working in a similar principle to the Sky+ system, a few British channels allow you to download programmes from their website and watch them whenever you want, although there is often a period of availability, such as one week after television transmission.
You will need a PC or laptop with a broadband connection to use this service. Also be aware of the download charges or limits of your broadband, or you could get a nasty shock from a very large bill. It is best to only use this type of service if you have an 'always on' fast connection and an unlimited download amount, although the on demand service itself is free.
You can also listen to the radio through your PC or laptop.
Satellite Television
The first port of call to find out about potential sources of satellite television is the vast number of British expat websites and forums. In practically every department (county) in France, there is an English or English speaking provider of satellite television installation. They range in price and some will not go above a second floor (onto a town house roof or block of flats for example) so make sure you ask all the relevant questions before you arrange an appointment. These operations provide everything you need to install the correct channels, including subscription channels if required and all the free to air UK stations.
If you prefer to complete the work yourself, you will need a satellite dish and a receiver, such as a Sky digibox. You can buy these on internet auction sites or take yours from the UK. You can also take your satellite dish, as it is not the dish that is different in France, rather the direction in which you angle it to receive signals. Essentially, this means that you can fit your own satellite dish to your new home in France to receive English television, although many people still chose to use an expert as it may involve technical know how and expensive equipment that you will not make use of.
If you do it yourself, you need to fit your satellite dish and install the antennae to receive Astra 2 at 28 degrees east. If you use a French installer, they will think you are wrong and point it to receive Astra 1 at 19 degrees east, because this is the correct direction for French channels. Make sure you are clear that you want to receive English channels from the Astra 2 satellite.
A third option is to buy the necessary dish and box, then get someone to install it for you. You can find such services at most large supermarkets. They are advertised as 'Service après vente' and are often in another building to the side of the supermarket. You can also have a range of electrical equipment fixed here, often regardless of where you bought it.
You might also like...