Keeping in Touch With UK Friends When you Move France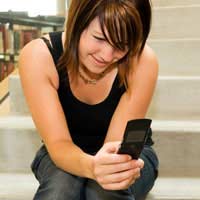 Although your new life in France is full of exciting possibilities, you will need the support of your friends back in the UK.
Do not fall into the trap of only talking about yourselves and your new adventure across the channel. Make sure you remember the important details in your friends' lives, too. They will get pretty bored if you only talk about what you are doing and forget that they have plenty going on, too.
Here are some suggestions for maintaining great relationships with your friends back home.
Your Diary is Your Friend
Before you leave the UK, perhaps on one of those endlessly long days when you are waiting to hear back about your mortgage, get yourself a new diary. Sit down and write all your friends' birthdays, children's birthdays, anniversaries and any other dates that it would be nice to remember. When you get to France, keep your diary in a strategic place and look at it regularly.
Buy a stack of note cards (ideally something French looking) and a book of EU stamps (only €0.66 each). Whenever an important date comes up, write a nice card and post it in plenty of time - the post from France to the UK takes at least three days and sometimes over a week.
Sign Up for Cheap Phone Calls
There are many phone companies targeting the expat market, often with English speaking help lines. For a monthly fee you can have unlimited calls back to the UK and they often include broadband access too. You can also look into using a VOIP (voice over internet protocol) service, such as Skype. This gives you free calls to other Skype users over the internet and vastly reduced calls to landlines through Skype Out.
Join Low Cost Airline Mailing Lists
Although cheap flights can work out not so cheap if you simply have to travel on a certain day at short notice, if you are savvy you can be one of those annoying people that actually got one of the 1p flights.
The best way to make this happen is to join all the mailing lists for the low cost airlines, especially those that fly from your nearest French airport to convenient location for your friends in the UK. Just go onto their websites and find the link or the 'contact us' button.
Not only can you find good flights for yourself, but also you can tell friends about good offers, making it more likely that they can come and visit without breaking the bank.
Have a Spare Bedroom
You may not be able to afford a designated spare bedroom, but you can factor in the comfort of guests when you are arranging or renovating your new home in France. For example, when you buy a sofa, choose one that can double as a spare bed.
When you decorate your home office or study, think about allowing space for a put-you-up or airbed. These can be packed down to next to nothing. If your lounge is to be used for guests to sleep in, think about buying a Chinese screen to give a bit of privacy. Small considerations can make your guests feel far more comfortable and welcome in your new home.
You might also like...