Learning the Language Before You Move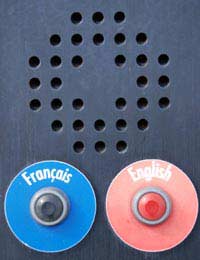 In order to really make the most of your new life in France, it is a good idea to try to learn as much of the language before you move.
Many new expats are shocked to realise quite how little French language they actually know when they arrive in France - most people remember being pretty good at French at school and have fond memories of buying beer and patisserie on holiday. The reality, however, is completely different. While you may be able to make yourself understood in a shop, do you know what the assistant is saying back to you? This is the biggest shock when you move to France - you are not prepared for the speed in which people talk and the fact that they sound nothing like those French Oral lessons you remember!
You will also need to consider that different areas of France have very different accents - just like the UK. Snooty Parisienne's like to say that they cannot understand anyone from the south! So you may find that how you learnt certain words at school is rather different in practice. For example, in the Languedoc, the 'e' at the end of many words is very strongly pronounced, whereas further north this is not the case.
It is also worth noting that your French will improve rapidly when you arrive and start imbibing yourself in French life, however, your language skills will be at their worst at the beginning of your adventure - exactly the time that you need to sort out all sorts of practical things like telephone lines, car insurance and medical care.
By learning as much French as possible before you arrive, you will be able to minimise the issues of integration and paperwork problems and you will also have more confidence in chatting to your new neighbours.
There are a number of ways to develop your language, here are some suggestions.
Evening Classes
French is a popular language to be offered by adult education and libraries across the UK. They are usually very good value and will probably be available at a variety of levels to suit your existing knowledge. Push yourself by going up a class, rather than find it really easy and not learn much more than you already know. These classes tend to correspond with school terms.
Internet Lessons
There are more and more companies offering internet language lessons nowadays, often with the addition of a webcam. You can book one to one lessons with a native French speaker, perhaps someone whose interests match your own. These are quite good value, although more costly than local classes. The benefit here is that they are available all year round at times that suit you, rather than booking for a whole year or term of classes.
Books & CDs
Most book shops will have a good selection of books and CDs to help you learn French. Some guidebooks are more focused on the type of language that tourists will use, so make sure to buy a more general guide, which will include a greater variety of every day situations. There are also an increasing number of books available that clarify the more colloquial French and help you learn a more modern way of talking. Invariably, the older books will include sentences about making a telephone call from a hotel, or posting a letter, whereas the more modern guides will be more aware of internet booking, low-cost airlines and mobile phones.
You might also like...