Packing for a Move Abroad - What to Take, What to Sell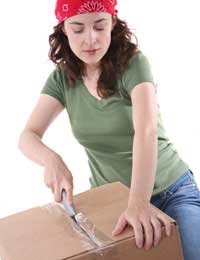 When you move abroad there are a number of issues that, unfortunately, you have little or no control over.
There are what seems like endless days of waiting for phone calls or emails to be returned, filling in forms until you are blue in the face and crossing your fingers so hard you think they may have permanent pins and needles.
There are, however, some issues that you are able to control, so it makes sense to have those issues clearly and practically dealt with. This can help you not feel as helpless as you know that whatever you can do, you will do.
One Less Thing to Worry About
One of the main issues you can keep under your own control is the packing for your move. Although there will be many tasks to manage, you will have plenty of time to pack as effectively as possible.
Moving to your new life in France is an expensive time – whereas in your current life, you will have a place for everything in your home, perhaps cupboards full of basics in the kitchen and a freezer full of home made ready meals. It is worth raising as much money as you can before you move because both the journey to your new home and your first few weeks, if not months, can prove very expensive. This is because you will be restocking cupboards, buying more meals out until your kitchen is useable, perhaps, or just generally taking longer to get things done, as you get used to your new home.
Utilise Your Time, Save Your Money
So, a good way to utilise the time that you may otherwise spend worrying about your upcoming move, why not get busy with your packing? You will have to do it at some point, so you could start now instead of waiting until the last minute and have to rush it.
By allowing plenty of time to pack, you can maximise the potential of the items you do not need to take. Too many people leave the packing until the end, when they then have to rush and pack everything, even if it will not be useful in their new life in France. Don't forget that taking your possessions to France is an expensive business – if you are using a removal company, every cubic metre will count and if you are doing the removal yourself, every box will be of the utmost importance when you are booking a removal van and lugging the boxes into your new home.
The Coloured Sticker Method
If you can, set aside an area in your current home to use to stack completed boxes. Buy a good selection of packing boxes and bubble wrap, with plenty of tape and marker pens.
There will be some items that you use all the time and will need to leave until the last minute to pack, such as some kitchen equipment, but there will be plenty of other things in your house that you do not use every day.
A good place to start is to buy a set of three coloured stickers, easily available in stationary shops or supermarkets, near the notice boards. Assign a colour to 'take', 'sell' or 'not sure'. Go round each room and decide if items are to 'take', 'sell' or 'not sure'. By having a 'not sure' sticker, you can do the task quicker than if you had to make a definite decision straight away.
Although your house may look a little strange with coloured stickers all over it, you will be able to see clearly, what you need to do in order to make a bit of money and not spend more than you need to on removals. For example, there is no need to take a lawnmower if you are moving to a first floor apartment. By using the coloured sticker method, you will give yourself time to sell your lawnmower on an internet auction site or through the local free ads paper.
You might also like...
We are planning a move to the Dordogne in the new year, can anyone tell me if I am allowed to take into France plants from my garden and house.
Gingie
- 16-Jul-12 @ 2:24 PM