Learning the Language in France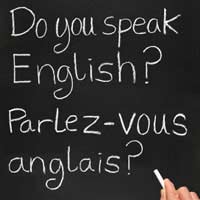 The sooner you can learn the language the quicker you will feel comfortable in your new home.
When you first start your new life in France, it is surprising how little French you actually know compared to what you thought you know. Most new expats come to France with what they consider a half-decent level of schoolchild French and that the rest will come along quite easily thanks to living in France.
There are a number of ways that you can boost your French now that you are living in France. Not only will you be immersed in the language - seeing road signs, menus and shopping in French - but you will also be able to get used to the pace of the language by overhearing French people talk.
Colleagues
If you are working with French people in France, rather than perhaps running a gite for tourists or working from home, you are in a good position to learn the language quickly. Your colleagues will be keen to help you and will be able to correct you. You will also learn a very accessible type of French, rather than the language that can be taught in classes, as you will be hearing how normal people talk. This will mean you can learn figures of speech, euphemisms and common phrases that will help you sound like a native French speaker in no time at all.
Television and Radio
When you get to France, it is a good idea to listen to French television and radio as much as possible. Even if you feel like you do not understand more then a few words, you will be getting used to the pace and intonation of French speakers, which will help your accent and you will gain a natural way of talking.
Films are also a good way to pick up the language as the pictures and storyline help to explain what it happening. This is especially helpful if you choose a film that you have seen in English, as you will be able to follow the story more easily. You can rent DVDs free at the local library and French television often shows recent American and English films with dubbing.
Language Classes
There is no shortage of French classes available to suit your budget. You can choose a group class, which is usually the cheapest option and allows you to meet other local expats, or go for one to one lessons. Either French teachers will come to your home or you visit their home, for perhaps one or two hours per week. This is a more expensive option, but gives you a more personal, dedicated lesson that can be designed around your requirements and interests.
Books, CDs and Websites
There have always been a large number of books dedicated to learning French, with French for beginners, French for tourists and colloquial French available, among many other titles. With the availability of the internet, these books can seem like a rather antiquated way to learn the language because although they may have a pronunciation guide, it is not as effective as actually hearing the words. Language courses on CD and interactive websites are a better way to stimulate your senses when learning the language, as you are able to pick up the pace and accent far more effectively.
You might also like...