Accepting The Role of French Paperwork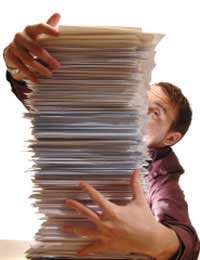 If you ask any of the 30% of British expats that return to the UK within four years of moving to France why they have come back, the majority will say the language or the bureaucracy.
It is well known that the French love official documentation, red tape and paperwork - there are huge numbers of people employed as civil servants, in post offices, banks and offices. Many of these employees could be considered 'jobs worths' - they can be inflexible and rather irritating in their instance to do everything exactly by the book.
You are likely to come across a number of these people, especially in your first few months in France when you are setting up accounts, arranging services and getting your phone connected. This, of course, comes at the time when your language is at its worst as you have not been in France for very long, so you will feel frustrated by your lack of ability to communicate, coupled with the rigidity of the person you are dealing with. Of course, some people in these roles can be very helpful, too.
Unfortunately, there is no advice available to help you reduce the red tape you will come across in France. The best way to deal with what can often be a very frustrating, soul-destroying part of your new life in France is to accept it. There is no point saying 'we don't do it like this in England' because not only will it not help you make any friends, but you will also get more annoyed with the situation and not be any more able to change it.
Accepting the role of French paperwork means many different things in practice.
Queuing at the Bank or Post Office
Even if you are used to queues in the UK, you will be surprised at how long the queues in places such as banks and post offices are. The people who work in these places do not have a concept of 'the customer is always right', or look as though they are trying to work as quickly as possible in order to reduce the waiting time.
Rather than stand in the lengthy queue getting more and more annoyed at the painfully slow service, just accept that this is the French way. You will get your turn and be able to go about your business, it just may take a little longer than you would like.
Filling in Forms for Services
When you start your new life in France, you will need to arrange your utilities, health care, car insurance and so on. These services are far less competitive in France than you may be used to in the UK, so there is not the same customer focused attitude. It is more the case that everyone uses the same few companies and their tariffs are relatively standard. The increase in mobile phones and internet provision is changing this a little, but traditional services are not catching up.
When you visit the water company office or the insurance company, you will be expected to have all manner of paperwork. Your entire mortgage agreement, for example, or your passport. You may not be comfortable handing over this documentation but it seems the norm in France. Again, you must not compare the French way to the British way.
An alternative to this hassle is the number of relocation firms that offer to attend necessary appointments with you and arrange bank accounts and so on. These are usually very expensive and best suited to those will deep pockets, especially as a little tenacity goes a long way and you will gain a great sense of achievement when you have completed your tasks under your own steam.
You might also like...