Getting Used to the French Two Hour Lunch Break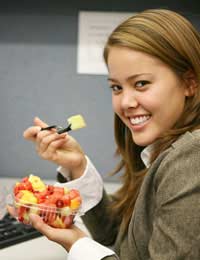 Although the 'entente cordiale' may become the 'entente formidable' in the near future, there are still a number of clichés and assumptions made between the French and the English.
French people still like to joke that English people eat boiled meat with jam, for example and the English think that the French eat for more hours a day than they work.
As with any cliché, there is some basis in fact.
English people do have cranberry sauce on their turkey and French people do still enjoy a two-hour lunch break every working day, perhaps longer at the weekends.
When you start your new life in France, you will need to get used to and indeed embrace the two-hour lunch break. After all, the slower pace of life and excellent quality of local food and wine that tempted you to France in the first place.
Be Organised
You will soon get used to the fact that the vast majority of shops and offices in France shut between 12 noon and 2.00pm. Schools also enjoy a two our lunch break, with many children going home for lunch with their families and others having a cooked, balanced three-course meal at school.
If you need to buy something in particular for your days work, make sure you get to the shops well before noon, or you can find yourself frustrated that your work cannot begin for another couple of hours.
It is also worth noting that the roads get very busy just after lunch begins, as people are leaving their work to go home or to a restaurant to eat, and just before 2.00pm as they return.
Shop like the French
In France, it is not so popular to do a large weekly shop as it is in the UK. Most French people will use the major supermarkets for cleaning products, for example, but buy their perishables on a daily basis. This means that a stroll to buy bread, cheese and salad for your lunch is far more pleasurable than dashing to the hypermarket on busy lunchtime roads to buy sandwiches and stuff your trolley full of your weekly requirements.
Make Appointments
It can be easier to get used to the two our lunch break if you also divide your working day into two clear sections. If you need to go to the doctors, bank or electricity company, make appointments wherever possible. Even if you are unable to make a formal appointment, you can put a set time in your diary to go to the office that you need. If you aim to get to a particular office for 10.30 or 11 am, you will ensure that the office is open (they may open at 10am) and that you will have time to be see before they close at noon. Even if you are still waiting to be seen at noon, you will be expected to return later.
Relax!
Rather than get frustrated that you cannot pay in a cheque or go to the pharmacy between twelve and two, why not just enjoy it? Most of these places stay open longer than we are used to in the UK, so you can just spread out your day in a more leisurely fashion. Of course, you will quickly get through your money if you start going for two-hour boozy bistro lunches, but you really do not wish to go back to the hastily grabbed sandwich at your desk that you used to endure in the UK.
You might also like...