How to Integrate Into a French Community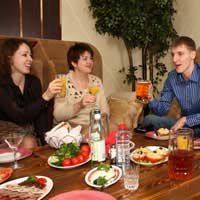 The importance of integrating into your new community in France is often overlooked by new expats.There is an assumption that you will learn the language simply by virtue of living in France and that you will meet like-minded people strolling around the markets.
Unfortunately, this is not very likely.
It is more likely that you and your partner will only talk to each other most of the time, with the odd 'merci' to a supermarket assistant thrown in for good measure. You may overhear other English voices, but why would you become great friends with someone just because you speak to same language? Were you friends with every English speaker in the UK?
The likelihood is that the English voices you overhear are retired expats and you are young professionals, and vice versa. You may be able to say hello and enjoy a brief 'Englishman abroad' chat, but this is not the same as making friends with similar lives.
The truth is integrating into your new French community is hard work. Certainly hard work that pays off in time, but hard work none the less. Let us look at some ideas to reduce the stress of integrating into your new community.
Local Classes
However small your new village or town is, there is bound to be some sort of local class. There may only be a belly-dancing club on offer, but to keep in with the integration, join whatever there is. Ideally, you will find a local class in a subject that interests you so that you can meet like-minded people, but any local class is a good way to get to know your local community.
Artisans
Rather than using all expat contacts for the tasks you will require – building, plumbing, and TV installation – try using a local artisan. This may be a little more frustrating initially as you try to explain what you require, but your local community will appreciate the business. There are also potential grants and insurance benefits for using local tradesmen.
Schools
Research has shown that new expats with children find integrating into their new French community easier than their childless counterparts. This is especially true if you children are under the age of ten, as younger children tend to pick up the language and join in quicker than older children. Either way, this gives you the perfect opportunity to get to know other parents at school by chatting at the school gates, attending social events at school and getting involved in any fundraising activities.
Local Shops
Use local shops as much as possible. While there are plenty of out of town shopping centres in France as in the UK, part of the pleasure of living in France is the wonderful local produce. Why not find out where and when your local market is held and stroll down with your basket? This is just what you dreamed about for your new life in France, so let it happen rather than filling up your trolley at the supermarket. Not only will you find superior local products, but also you will get a more personal service that gives you an opportunity to pick up phrases.
Try the Language
When you move to France, do not get into the habit of asking if people speak English at every turn. French people appreciate when you try to speak French, even if you get it wrong. Indeed, it is often considered rather endearing if you make a mistake. Do not try to translate English phrases in your head and then say them in French, listen to how people talk and you will learn a more natural way of speaking.
You might also like...
What is the criteria for having a mariein a village, does every village have amarie?
Taveri
- 1-Dec-16 @ 8:37 PM