I Retired to France: Case Studies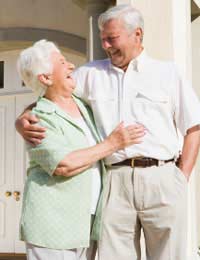 As Simon Patterson, now 68, neared retirement age, he knew that he wanted a change of scene.
Having lost his wife to cancer a couple of years earlier and with three grown up children living many miles away, Simon felt that he could make a move to live in France.
Simon told us, "My children lived around the south coast, where they had grown up, so I was thinking that I would retire to Brittany. They would be able to come and see me when it suited them and I wouldn't be too far away, but able to enjoy the French lifestyle that I really loved."
Family Visits Made Easy
Simon bought a house that was big enough for his family to stay, but not so big that it needed too much maintenance. Although still very active, Simon was fiercely protective of his independence and wanted to make sure that he could live happily alone, so he bought a bungalow with easy access to shops and facilities.
Simon said, "My children were really excited about my move because they planned to come and see me whenever possible. I still always buy them tickets for the ferry for presents so that they can always come whenever they want and they all have clothes and things at my house. That means that they can just get in the car and come over, which makes it a very easy-going visit."
Simon chose a town in Brittany where many British expats have chosen to retire, so he gets the best of both worlds – there is an active crown green bowling club and plenty of activities to keep him occupied. Indeed, it was at the bowls club that Simon met Betty.
He continued, "I wasn't looking for another lady, but I am very pleased to have met Betty. She also has her own home in the town and we share meals and walks together. I don't know if I would have been able to enjoy the lovely social life that I enjoy in the UK because I was starting to feel a little unsafe out and about. Here, there are lots of older people socialising and, as a society, France seems more respectful of the older generation. You always see families out together and there are plenty of places for us to go – even just sitting out on the bench in the sun, watching the petanque game, is a real pleasure."
UK Pension
Simon receives his UK pension directly into his French bank account and is entitled to the excellent French healthcare. Even though he is in great health, he says that the fact that there are no waiting lists and a terrifically high standard of care gives him some comfort.
Simon told us, "I can't see myself moving back to the UK now – I love it here. I'm pretty good with the language, although luckily there is a lot of English spoken in this region. My family love coming out here and my daughter is planning to buy her own place here, too. Also, having met Betty I know that the rest of my retirement years will be spent together, which is more than I could have hoped for."
You might also like...