Looking for a French Property on the Internet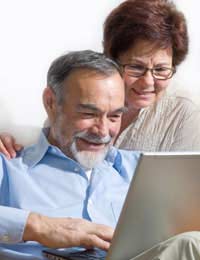 The internet has made it much easier to look for property in France.
This means, however, that it is easier for both good and bad estate agents to advertise their properties. When you are sitting at home in England dreaming about your new life in France, you do not have those face to face references such as the quality of their office, the location of their office or the professionalism of the staff, that would help you make a value judgement about their service.
So you have to make sure that you do not get lulled into thinking that any property for sale on the internet is from a reputable seller - you still need to make sure that you are acting in a responsible manner even though their website seems credible.
Check Credibility
A good way to check the credibility of a particular estate agent is to see if they advertise in any of the many relevant magazines available. This is likely to show that they are a larger operation and so concerned with their reputation. They will tend to have English speaking experts that can help with your search and will be used to dealing with English buyers. This means they are likely to know about suitable artisans, local builders and services that may help you, especially as the work you may need to carry out will be at the beginning of your French adventure and so when your language skills are not yet developed.
Research Small Agencies
Of course, many small and independent estate agents are just as reputable and indeed may even bend over backwards to help you. You should not discount the smaller estate agents on the grounds that they do not advertise in the French property magazines. To find out more about these companies, have a look around at the number of 'expats moving to France' forums on the internet. There are loads of them, inevitably with a self-confessed expert on them correcting everyone. Still, they are a very valuable source of information, especially as those people who have had a bad experience are likely to be quite vocal about it.
There are so many estate agents in every town in France that you will have plenty of choice. They vary in what types of property they specialise in and what services they offer to English buyers. By looking at the forums, property websites and general internet research about the operations, you will be able to get a feel for their approach and whether it suits your plans.
Be Commercial
Remember that you do not need to pay for any viewings, or pay anything upfront at all. All good estate agents will clearly talk you through the process, especially if you choose one with experience in dealing with foreign buyers, which they may say on their website.
Although you are looking to buy a property in France, you will still need to be as aware and as astute as you would be if buying a property in England. While there are some differences in the laws of estate agency practice between the two countries, it is still a commercial operation and those British buyers looking for a French property have a responsibility to be aware that the reputation and behaviour of our countrymen buying French homes precedes us. Many French people believe that we are rolling in money and will pay over the odds for a French home, so the price mysteriously leaps up when we go to look at it. Make sure you have your commercial head on when looking at properties, even when on the internet.
You might also like...