Taking a French Language Class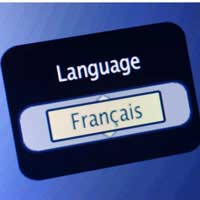 The vast majority of people who start a new life in France plan to speak French as much as possible.
While there may be a small amount of expats that just want to live in 'England in the sun' and only talk English, make friends with other expats and eat baked beans all the time, most people who move to France plan to be part of their local community.
Of course, there is nothing wrong with getting Eastenders on Sky and enjoying your favourite tea bags, but everything in moderation! If you have decided to take the plunge and start your new life in France, you will miss out on an awful lot France has to offer if you don't try and learn the language.
Improving Your Language Skills Before You Move
The best idea would be to be totally fluent in French before you move, but that really isn't practical for most people. Unless you already speak French, you will need to improve your skills. Be clear about how good your French is already – most expats have a little experience of the French language, whether that is GCSE, O Level or A Level French or just what they picked up on holiday.
Before you move, try to improve your French language skills as much as possible because when you move you will have enough to think about for a while! If you can, get French language television programmes, either through Sky or Freeview. You can also listen to French radio or buy a language course on CD.
Once you have moved to France, it is a good idea to enrol on a French language course as soon as possible. Not only will it help you learn French quicker, but it can also be a great place to meet fellow expats at a time when you may be feeling lonely or homesick.
Language Classes When You Move to France
There is a wide variety of French language courses available when you move to France, so think about what type of language course or class is best suited to your requirements. If you are looking for an enjoyable way to improve your French slowly, you may prefer a more sociable group. If, however, you are keen to learn French as soon as possible as you need to find employment, for example, you may be better off taking a one to one French tutor that can tailor make a course for you.
Most large towns have an information centre called an MJC (Maisons des Jeunes et de la Culture - a sort of youth and community centre), which you can look up in your local yellow pages (Pages Jaunes) which is delivered for free to every household. You can also look online for French courses or classes in your area, or ask other expats you have met in your town.
If you have used a removal service or integration service to help you with your move, they will usually have a number of recommended classes or individual tutors. Do remember that simply by using your French skills every day they will improve, which is the greatest confidence booster there is.
You might also like...